2023 Turkey Dri-Tri Challenge
Get ready for the Turkey Dri-Tri Challenge, where you can choose to gobble or wobble your way to victory!
Note: This event has already passed.
Nov 22 2023, 6 am - 12 pm
Nov 22 2023, 6 am - 12 pm
Join us for a Thanksgiving fitness extravaganza, test your limits, and kickstart your holiday season on a healthy note.
Here's the challenge:
Choose to Gobble:
Row 1,000m
3-mile upright bike ride
1-mile treadmill run.
Or Wobble:
Row 2,000m
6-mile upright bike ride
2-mile treadmill run.
The top 3 male and female competitors with the fastest time will win a prize! It's the ultimate pre-Thanksgiving fitness challenge that you won't want to miss.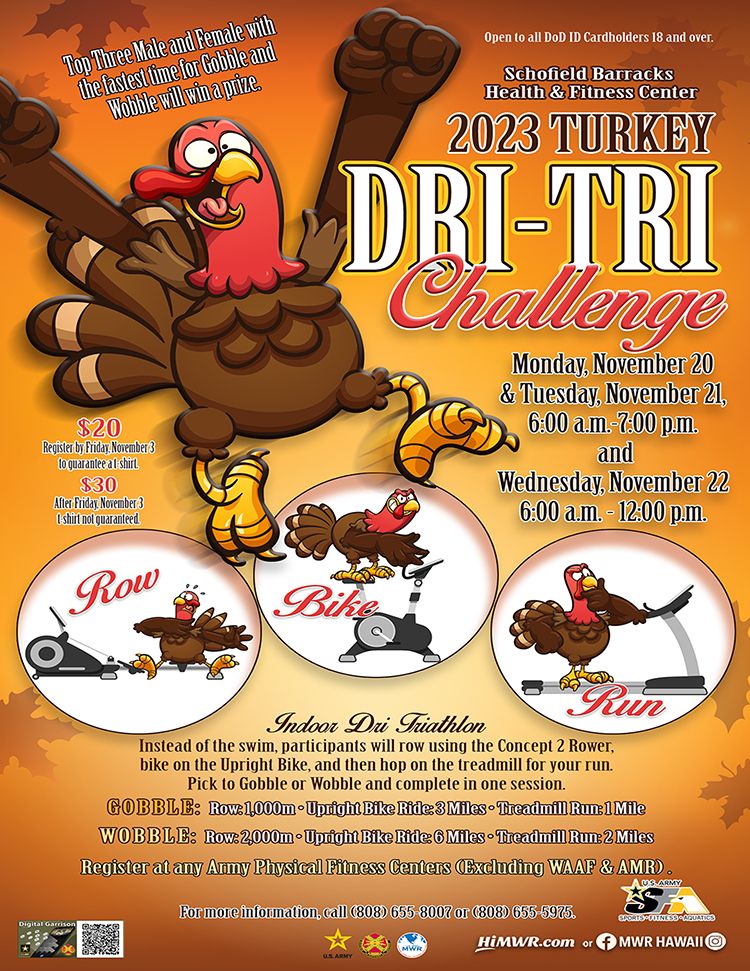 Click HERE to download the full flyer.
Registration Information
Early Registration: $20
Deadline: Friday, November 3
T-Shirt Guaranteed
Late Registration: $30
Beginning Saturday, November 4
T-Shirt available while supplies last
Register at any Army Physical Fitness Center (excluding WAAF & AMR) and let the games begin!