Family and MWR Pet Kennels
Hours of Operation
| | |
| --- | --- |
| Monday | 10 a.m. - 2 p.m. |
| Tuesday | 10 a.m. - 2 p.m. |
| Wednesday | 10 a.m. - 2 p.m. |
| Thursday | 10 a.m. - 2 p.m. |
| Friday | 10 a.m. - 2 p.m. |
| Saturday | 10 a.m. - 2 p.m. |
| Sunday | 10 a.m. - 2 p.m. |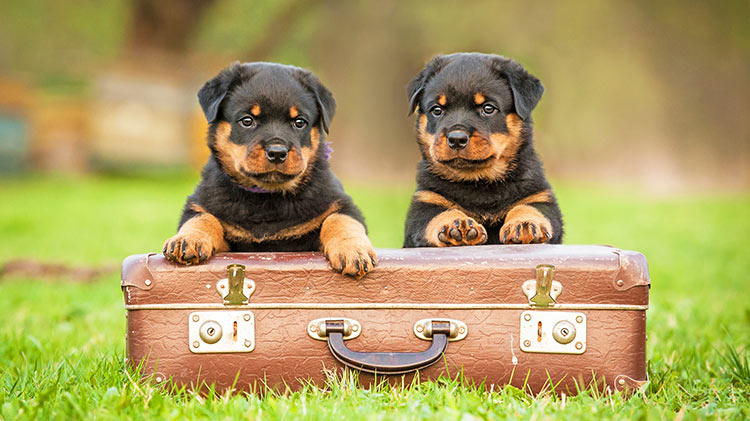 The Family & MWR Pet Kennel offers your furry friends a place to stay while you're away!
Our outdoor facility features:
196 covered dog kennels
19 cat kennels
Grassy lawns
Large exercise play areas
With our exceptional customer service and passion for animals, you can be confident in leaving your dogs and cats with us. Our kennels will soon become your pet's favorite home away from home.
Payments and Fees

Fees

| | | |
| --- | --- | --- |
| Kennel Size | First Pet | Additional Pet |
| Small (8'x5') dogs up to 14lbs | $18 | $14 |
| Medium (15'x5') dogs up to 50lbs | $20 | $16 |
| Large (18'x5') dogs over 51lbs | $22 | $18 |
| XL (25'x5' All dogs | $24 | $20 |
| Suite (35'x8') All dogs | $26 | $22 |

Note:

All prices are per night.
Small kennels can accommodate cats of all sizes.  
Kennels are assigned based on weight and availability only.
We may weigh the dog at our facility to determine kennel size.

 

Payments

We accept Visa and MasterCard at the facility. Sorry — we cannot accept payments over the phone at this time.

Payments for boarding are as follows:

A 2 day deposit is required within 5 days of making a reservation. During your pet's stay, we accept payments at any time. Full payment is expected when picking up your pet.
For extended stays (greater than two months), please contact the office to make monthly payments. Any stay greater than 30 nights will receive a 10% discount off the total cost.
For emergency leave, TDY and PCS boarding, you can pick up your pet early with no penalties. We ask that you let us know so we can accommodate other reservations.
There are no early pick-ups for leisure travel boarding. If you decide to pick your pet up early, you will be responsible for the remaining days booked.

Food

If you are providing your pet's food, it must be in a hard, ant-proof container with a good rubber seal around the lid.
Ziplocs, plastic bags, dog food bags (with or without Ziploc), or Tupperware without a rubber seal will not be accepted. All containers must have an air-tight seal!
We can provide pet food for an additional $2 per day, per pet. We are currently feeding Nutro Max for dogs and IAMS for cats.                                      

 

Grooming

We provide grooming for your pets, including baths and brushing, at your request. Please schedule with the office.

Baths:

If you provide the shampoo:

$15 (includes towel dry and brush)

If we provide the shampoo:

$20 (includes towel dry and brush)

Brushing:

$5 per brushing for any size pet

Medications and Vaccinations

The Family & MWR Pet Kennels require that all pets have the required vaccinations. Proofs of vaccinations are required with each reservation. Dogs and puppies must have adequate vaccinations Distemper (can be an annual or a three year vaccination depending on the pet's age) and Bordetella also known as the kennel cough vaccination (required every six months). Since we are an outdoor facility, we highly recommend that your pet also be vaccinated against Leptospirosis. Cats and kittens must have adequate vaccinations for feline Distemper, FVRCP. We recommend additionally vaccinating your cat for FeLV.
All pets must be free of fleas, ticks, heartworm, and intestinal parasites.
Pets must be medicated to control external parasites with some kind of prescription strength product. Some acceptable products include: Frontline, Advantix, Revolution, Trifexis, NEX, Comboguard, sentinel, etc. Please ask your doctor what is right for your pet in this environment. If your pet is not already on a flea and tick preventative, the product must have been applied 3 days before boarding your pet.
Pets are required to be on a monthly heartworm preventive (for example: Heartgard). Please ask your doctor what is right for your pet in this environment.
Pets must also be free from internal parasites. Please bring evidence of an annual fecal test.
If your animal requires medication, we can administer medications with the exception of injections.

$1 per medicine
$2 per dosage per pet

 

IMPORTANT: Any medication must be accompanied by the original packaging or container with proper label. We cannot accept a zip lock bag full of pills, vitamins, or anything else. If your pet is on a regiment of multiple medications and you normally use a "seven-day pill organizer " of some kind, feel free to provide that for us. Please also include the prescription bottles on the side so that if any questions arise, we can identify the medication as needed.

Reservations

To reserve a kennel for your pet, call 1+ (808)368-3456. Please leave a voice message to include:

Your last name (please spell this for us)
The drop off/pick-up dates (this can be adjusted at any time as long as we have the space to accommodate)
The breed and approximate weight of your pet
The best phone number to reach you
*Please allow an average of 24 to 48 hours for us to return your call. We prioritize calls by the following: PCS orders, emergency leave, TDY, leisure travel closet to the current day. During peak seasons this may take longer.

The earliest that you can make reservations is 60 days prior to the month you would like to board (for example: beginning October 1st, we take reservations for any start date in December).
Within 5 days of making your reservation with the office representative, you must come to the facility in person to pay a two-day deposit to complete your reservation.
Note: Deposits can be refunded only if reservations are canceled 10 days prior to boarding date. At that time you will have 10 days to come to the facility and fill out a Refund Form. You will also need to bring a copy of the deposit receipt that was given to you at the time you paid your reservation deposit. Refunds come in the form of cashier's checks only and can take up to 3 weeks through the mail. We can also credit the reservation for a future stay within 90 days. Please note that ANY credit is only good for the 90 days.
Boarding without reservations can be made if space is available.

Forms

Family MWR Pet Kennel Registration Form - Fill it out and bring the form to the pet kennel for final registration.
Refund Form - For refunds please fill out the top portion of the form, sign/date and email it back to us with a copy of receipt given at deposit date. Please provide full name, full address, home/work phone numbers (Note; Do Not Provide SSN#) and, state your reason for canceling.

PCSing To/From Hawaii