Independence Day Celebration
1st of July Independence Day Celebration - Join USAG Hawaii Family and MWR as we celebrate Independence Day with FREE live celebrity performances from Elle King and Plain White T's!
Note: This event has already passed.
Jul 1 2023, 12 am - 9 pm
Jul 1 2023, 12 am - 9 pm
1st of July Independence Day Celebration
Join USAG Hawaii Family and MWR as we celebrate Independence Day with a parachute demonstration by the USA Army Golden Knights, a Patriotic Salute, The 25th ID Band w/ the 100th Army Band from Fort Knox, performances by Elle King, Plain White T's and a grand finale laser and fireworks show presented by USAA. Food and beverages will be available for purchase. Come out early to enjoy a variety of activities* including inflatable bounce houses, games, costume characters and more.
*Some activities have a fee to participate.
ADMISSION IS FREE AND OPEN TO THE PUBLIC! All non-DoD attendees will be required to enter through Foote Gate. All visitors will provide a valid and original form of ID, to include a federal identification card, state driver's license, state identification card, or passport which complies with Public Law 109-13 (The REAL ID Act of 2005).
Click HERE to view the full event flyer.
Jul 1 2023, 12 pm - 9 pm
We look forward to seeing you on Saturday!
Installation Access and Parking for General Public:
Visitors who do not possess a military ID must enter Schofield through Foote Gate. Traffic control personnel will direct visitors to park on Watts Field, and a shuttle will take them to the event entrance.
All vehicle occupants 16 years of age and older must present a valid state or government photo ID, and the vehicle driver must provide a current driver's license, vehicle registration, proof of insurance and safety check. Coolers, backpacks and bags are subject to inspection. No pets, glass bottles or illegal substances (including Marijuana) are allowed.
Independence Day Celebration Activity Map: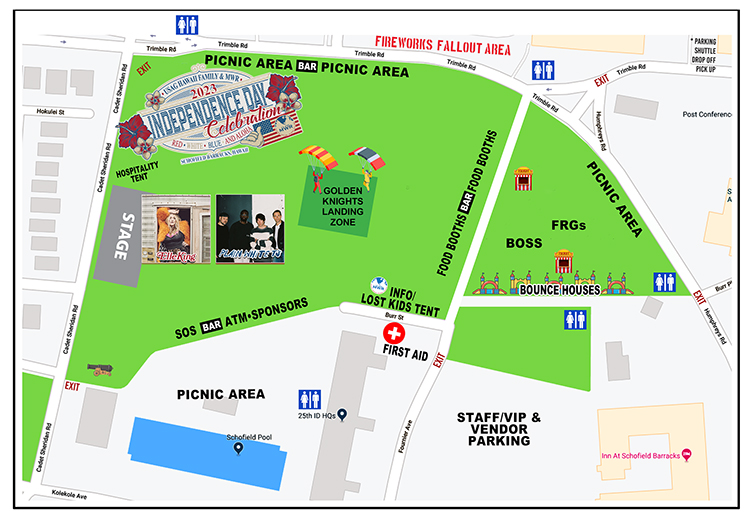 PROHIBITED ITEMS:
Backpacks, briefcases, luggage, or duffel bags (Diaper bags, coolers, and small purses are permitted).
Drones of any kind, including but not limited to: UAV's, RPA's, or UAS'sD.
Glass Bottles.
Illegal Substances (including Marijuana).
Offensive or profane messages or images on signs and clothing.
Pets (Service animals are permitted).
Laser pointers.
Noise making devices (e.g. air horns, drums, whistles).
Skateboards, hover boards, rollerblades, scooters and bicycles.
No Weapons of any kind, including but not limited to:
Firearms (with or without permit), Pocket knives and/or Multi-tools, Pepper Spray or Mace, Flares or Fireworks.
For your safety and the safety of others, guests and their possessions are subject to inspection as a condition of admittance. Please have your bags open and available for inspection. Military Police Officers reserve final decision on items brought into the venue. Intoxicated patrons may be denied admittance to the field.
Departure Route: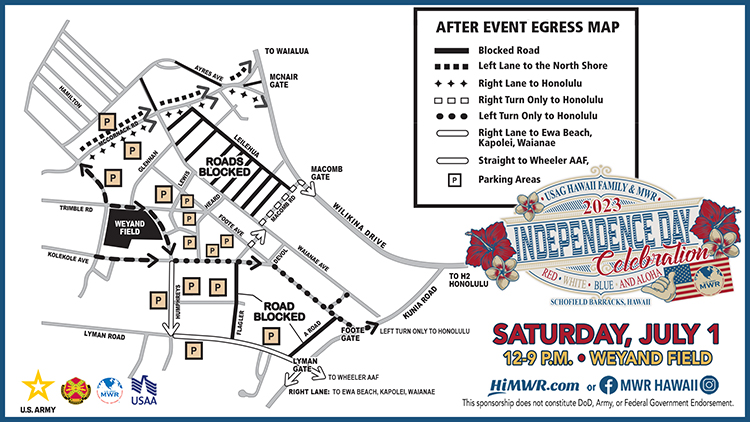 MWR Facilities Hours of operation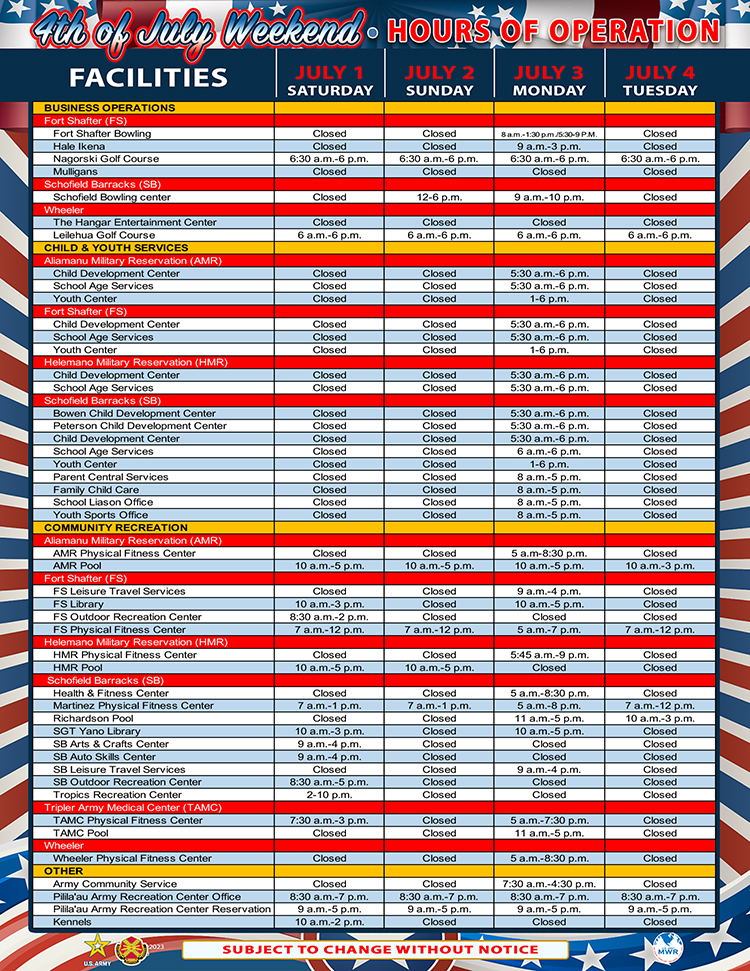 Special Thanks to our Sponsors:
Grand Finale Laser and Fireworks Show Sponsor:
USAA
Communications Partners:
iHeartMedia Inc. Honolulu
Salem Media Group
Supporting Sponsors:
604 Ale House.
88 Tees Hawaii.
Alaska Airlines.
Ace Team Hawaii Realty.
Century 21 Island Homes.
E Bikes Hawaii.
Epics Hawaii Homes.
First Command Advisory Services.
Hawaii Electric Company.
Harosky Homes.
Hook Orthodontics.
Khan Skewer Restaurant.
Northwest Mutual Life Insurance.
Omaha Mutual.
Papa John's Hawaii.
PC Gamerz Hawaii.
Prestige Islandwide Realty.
Raising Cane's.
Storybook Hawaii Entertainment.
Team K2 of Keller Williams Realty.
No U.S. Army Endorsement Implied.
Cost
ADMISSION IS FREE AND OPEN TO ALL DOD AND U.S. ID CARD HOLDERS.