4th of July Spectacular
Note: This event has already passed.
Jul 4 2019, 10 am - 9 pm
Jul 4 2019, 10 am - 9 pm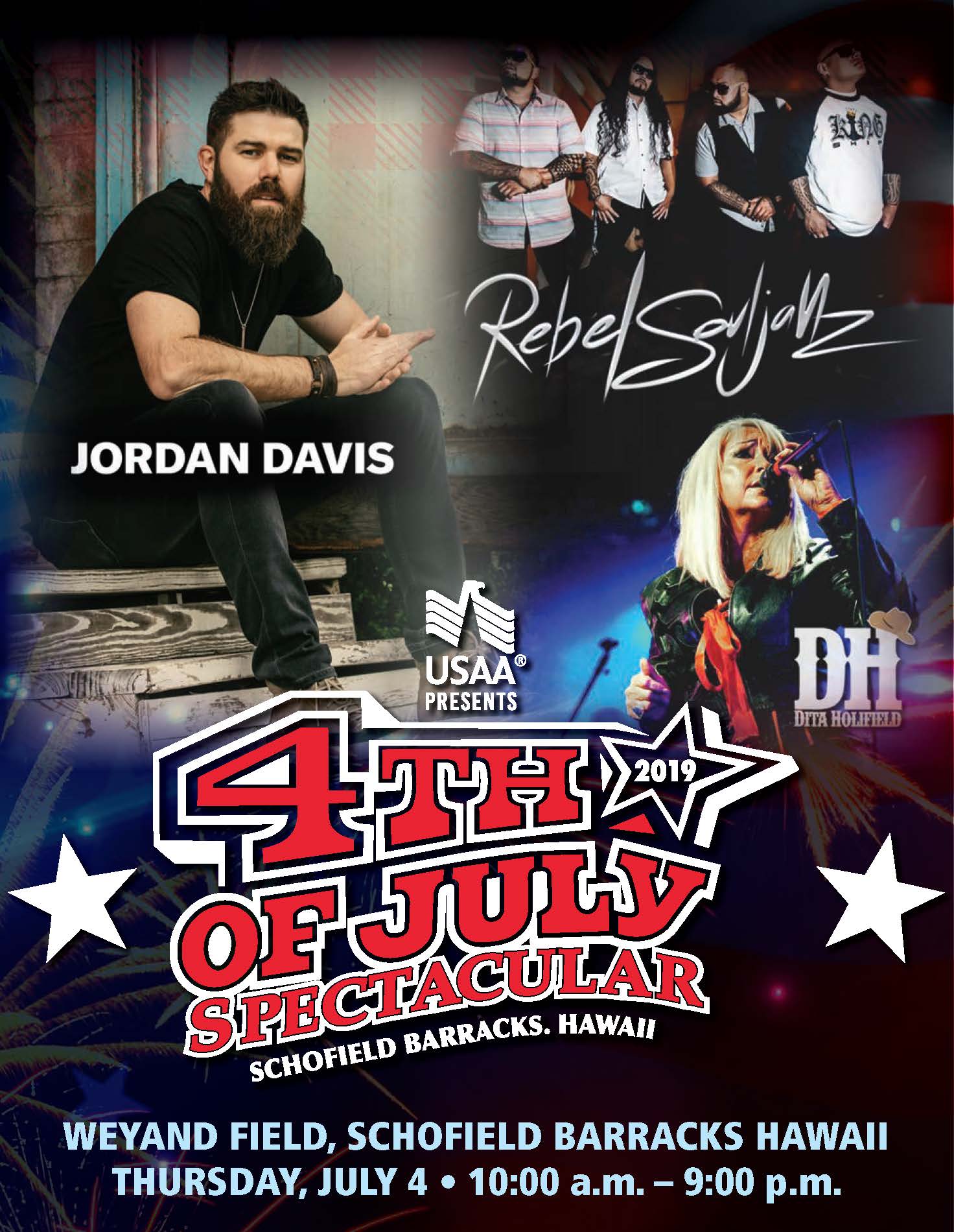 ***CASH ONLY EVENT***
ENTERTAINMENT
10:00 AM – 9:00 PM Carnival Rides, Games & Food
10:00 AM – 5:30 PM iHeart Radio and Sponsors Give Away Tent
12:00 PM Bar opens, The Knumbskulls
1:00 PM DITA HOLIFIELD HILLBILLY HOUSE
3:00 PM Black Dagger Parachute Demonstration
3:30 PM REBEL SOULJAHZ
5:00 PM Flag Retreat
5:30 PM JORDAN DAVIS
7:40 PM Patriotic Salute
8:00 PM 25th ID Band, 1812 Overture
8:40 PM FIREWORKS
CARNIVAL GAMES & RIDES TICKET PRICES
IMPORTANT INFORMATION
Fees will apply for some attractions as well as food and merchandise
Vehicle drivers and passengers 16 years of age and older are REQUIRED to show a valid State of or Federal Government ID at the gates.
All Coolers/Bags are subject to inspection while on Schofield Barracks.
No emotional or therapeutic animals or pets (accommodations made for trained, harnessed, and housebroken ADA-Compliant Service Animals)
NO GLASS items of any kind (including bottles, dishes and drinking vessels)
Smoking permitted in designated area ONLY
All personal fireworks are prohibited (sparklers included).
No clothing, garments, or signs displaying explicit language, profanity, or derogatory characterization toward any person(s) will be allowed.
Open flame or charcoal cooking is not permitted (except at picnic areas).
No Signs, Flags, or Banners exceeding 11" x 17" or attached to a pole/stick. Signs must be relevant to event. Signs may not contain or display obscene or offensive language and/or pictures as determined by USAG Hawaii. USAG Hawaii reserves the right to prohibit or remove a sign or banner at any time.
When entertainment begins, please lower umbrellas and canopies so others behind you can see the stage and enjoy the entertainment. Canopies are allowed on the field until 2:30pm.

No unapproved Pamphlets, Handouts, Ads, or Flyers without prior consent from USAG Hawaii Family and MWR will be allowed at the event.

All weapons brought onto USAG Hawaii must be registered with the provost marshal's office in accordance with U.S. Army and USAG Hawaii regulations and policy. Only law enforcement personnel in the performance of official duties may possess a concealed weapon on USAG Hawaii. It is important to note that county, state and federal civilian concealed carry permits are not recognized or valid on USAG Hawaii.
* OPEN TO THE PUBLIC
* CASH ONLY / ATM ON SITE
Non-DoD Cardholder Entry/Parking
Visitors who do not possess a military/DoD identification card should enter Schofield through Foote Gate on Foote Avenue. Visitors will then be directed by traffic control
personnel to park on Watts Field. All vehicle occupants 16 years of age and older must present a valid state or government photo ID, and the vehicle driver must provide a current driver's license, vehicle registration, proof of insurance and safety check.
Mahalo to our Sponsors!
Presenting Sponsor
USAA
Major Sponsors
- Verizon Wireless
- Hawaiian Electric
- AT&T Inc.
- Anheuser-Busch
Major Supporting Sponsors
- U.S. Army Special Operations Recruiting
- Tongg + Partners
- RE/Max Honolulu
- Kapilina Beach Homes
- Harosky Homes
Major Media Sponsors
- Salem Media Group
- iHeartMedia, Inc.
Supporting Sponsors
- Lyft
- Alaska Airlines
- Hard Rock café
- KIlauea Military Camp Reservations
Special thanks to:
- KSSK 92.3 Hawaii
- KKOL Kool Gold 107.9
- KHCM Country 97.5
- KHNR AM 690 The Answer
- KGUA 95.2 Honolulu real Country AM 760
- Star 101.9
- Island 98.5
- Fox Sports 990AM Hawaii
- KHVH News Radio 830
- 93.9 The Beat