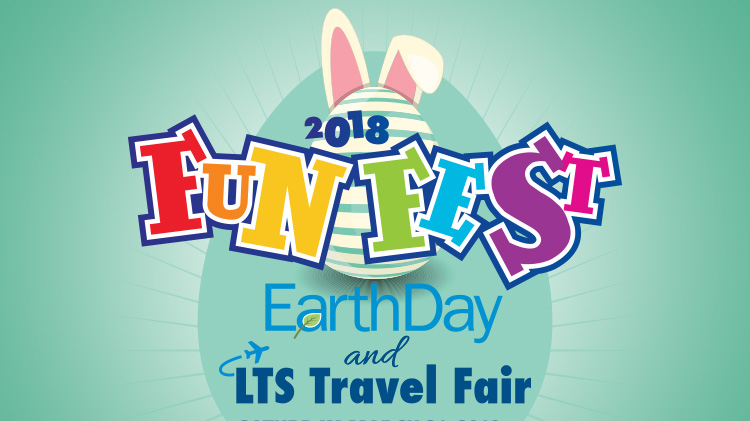 2018 Funfest Earth Day and LTS Travel Fair
Date: Mar 31, 9 a.m. - 2 p.m.
Enjoy A Fun Filled Day Of Family Activities: Egg hunts, games, rides, pony rides, petting zoo, stage entertainment, Easter Bunny photos, keiki obstacle course, inflatables, food booths and more.
Check Out The Travel Fair: Recreational vendors from around the island, and prize giveaways.
Earth Day Activities: Upcycling, crafts & coloring activities, artifacts search, sustainability and natural resources educational activities.
ENTER TO WIN $500 GIFT CARD
To be used at leisure travel services
Free Egg Hunts - 20,000 eggs filled with candy and toys
Ages 0-2: 11:00 a.m. (Only one adult allowed per child)
Ages 3-5: 11:15 a.m. (Only one adult allowed per child)
Ages 6-8: 11:30 a.m. (No adults allowed in the field)
Ages 9-12: 11:45 a.m. (No adults allowed in the field)
Exclusive to all EFMP Members
Picture with the Easter Bunny: 8:45-9:30 a.m.
Egg Hunt: 9:30-10:00 a.m.
EFMP members provided preference with wristband: Check-in at the EFMP tent to obtain wristband

Static displays/Soldier tactics demo:
10:00-10:30 a.m. & 11:00-11:30 a.m.
Little warrior games:
10:30-11:00 a.m. & 11:00 a.m.-Noon




This sponsorship does not constitute DoD, Army or Federal Government endorsement
Cost
The event is free
Cash only for certain activities
ATM available on site