CYS Youth Sports & Fitness: 2021 Soccer League's New Season Starts on June 1
Are you ready for Soccer?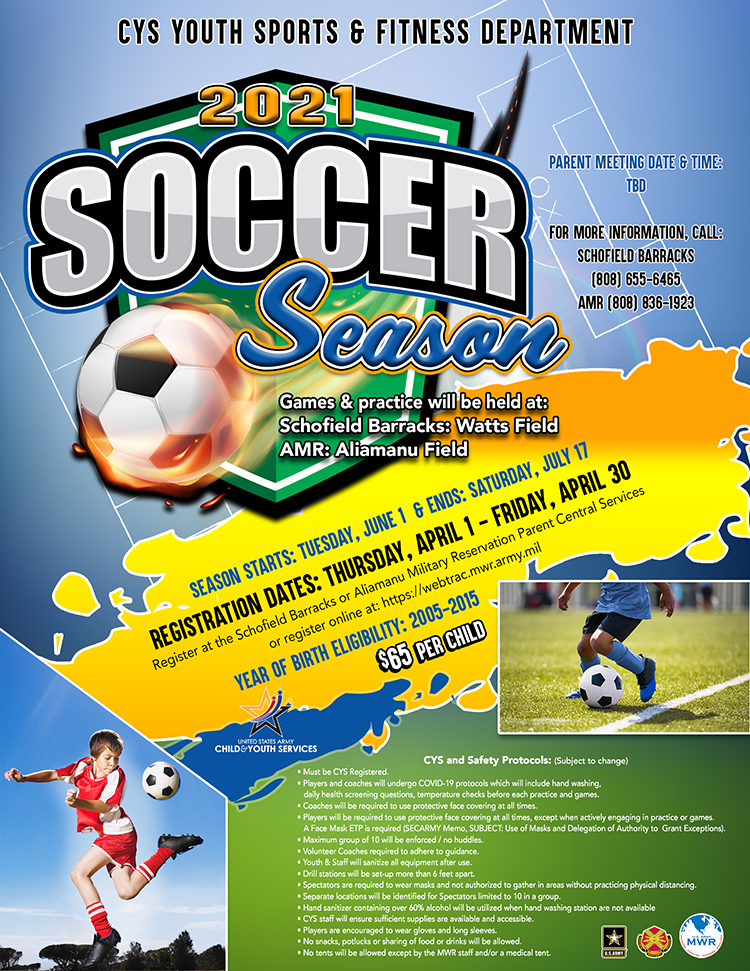 Year of Birth eligibility: 2005-2015
2021 Youth Soccer Mitigations
• Must be CYS Registered.
• Players and coaches will undergo COVID-19 protocols which will include hand washing,
daily health screening questions, temperature checks before each practice and games.
• Coaches will be required to use protective face covering at all times.
• Players will be required to use protective face covering at all times, except when actively engaging in practice or games. A Face Mask ETP is required (SECARMY Memo, SUBJECT: Use of Masks and Delegation of Authority to Grant Exceptions).
• Maximum group of 10 will be enforced / no huddles.
• Volunteer Coaches required to adhere to guidance.
• Youth & Staff will sanitize all equipment after use.
• Drill stations will be set-up more than 6 feet apart.
• Spectators are required to wear masks and not authorized to gather in areas without practicing physical distancing.
• Separate locations will be identified for Spectators limited to 10 in a group.
• Hand sanitizer containing over 60% alcohol will be utilized when hand washing station are not available
• CYS staff will ensure sufficient supplies are available and accessible.
• Players are encouraged to wear gloves and long sleeves.
• No snacks, potlucks or sharing of food or drinks will be allowed.
• No tents will be allowed except by the MWR staff and/or a medical tent.
Registration Information
Registrations dates are from April 1 to April 30. You can register your child at SB or AMR Parent Central Services or register online.
Schofield Barracks

Please call (808) 655-8380 for program availability.

+18086558380